Our Various Themes
Weddings in Goa can have various kinds of themes, that are unique and elegant and add a very different excitement to the wedding. We have a range of wedding themes that are shown here. Do ask us about our exclusive wedding themes in Goa.
ROYAL INDIAN WEDDING THEME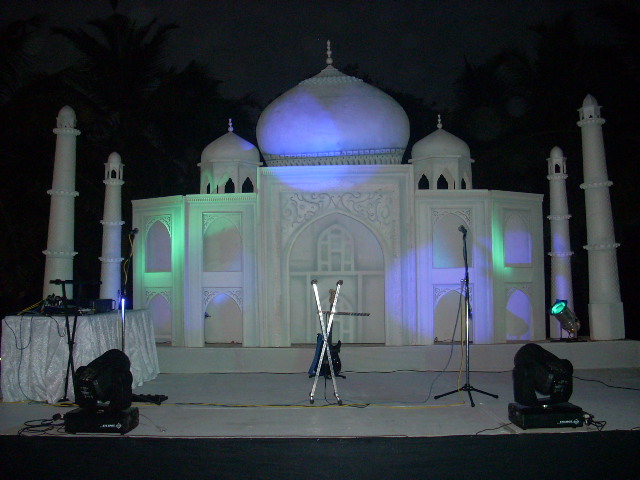 Welcome to the wonder of India! Let the magnificent Taj Mahal be your backdrop for your Sangeet or Reception. Recline on a golden throne amidst the setting of a Palace with silk covered bolsters and mattresses, while traditional Indian lamps glow around you. Your bejeweled mandap is draped with rich fabrics and adorned with exotic and rare flowers. Be a royale on the biggest day of your life. The Royal Indian theme is perfect for your destination wedding ceremony and reception party.
RAJASTHANI PALACE THEME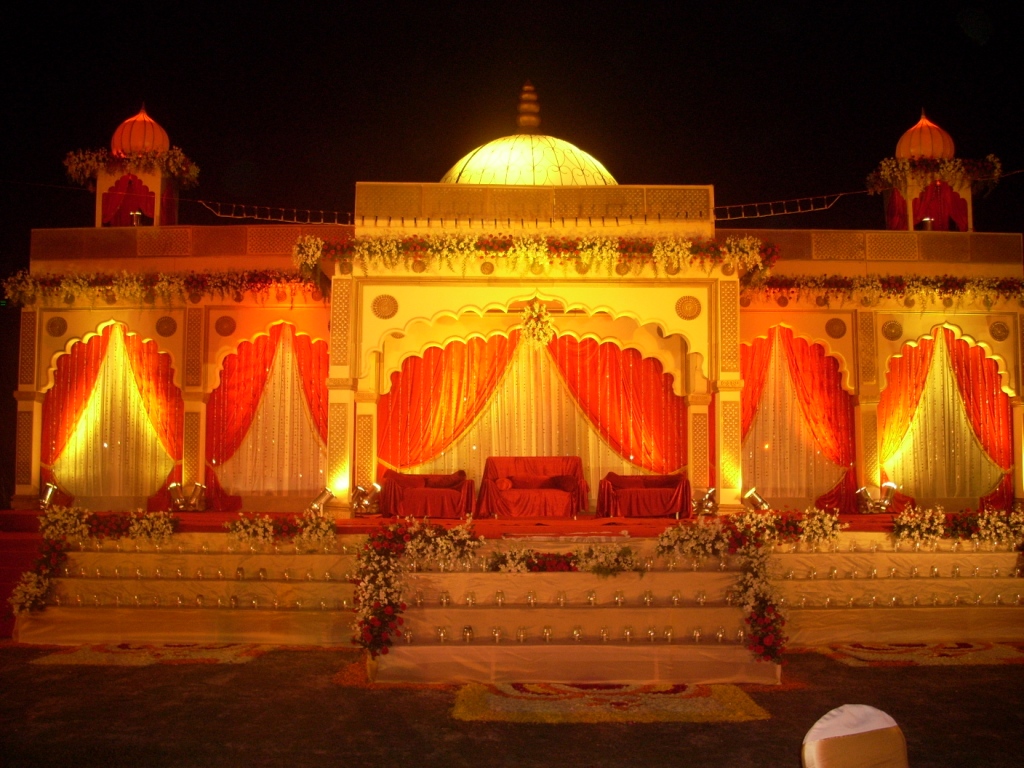 Welcome to the land of the Maharajas! Combine your Goan beach wedding with the royalty of Rajasthan. The palaces of Rajasthan have always been the perfect backdrop for many a destination wedding. With the colourful and diverse culture of Rajasthan you can use this theme throughout your wedding events. The Rajasthani Ethnic theme is a hot favourite for mehendis and sangeet ceremonies while our Rajasthani Palace themes are ideal for your main wedding ceremony and reception party.
VICTORIAN WEDDING THEME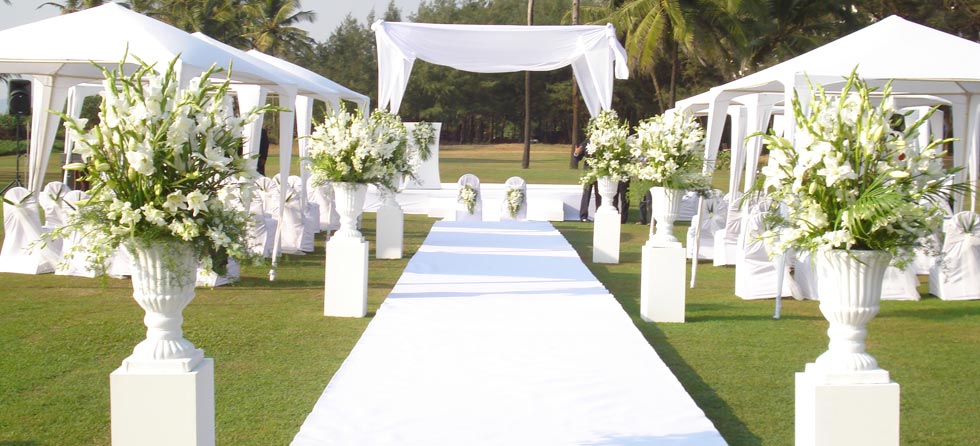 Imagine the soft sand caressing your feet as you walk down the aisle, strewn with petals, to meet your soul mate under a canopy with delicate chiffon drapes and lillies. Your bridesmaids walking down the aisle to Pachelbel's Canon played by a string quartet. A Victorian wedding is all about class and grace, and calls for romantic gestures of a dainty nature. This theme is the classiest and perhaps the best western theme that you could infuse at your beach wedding ceremony and your reception party.
GOAN CARNIVAL THEME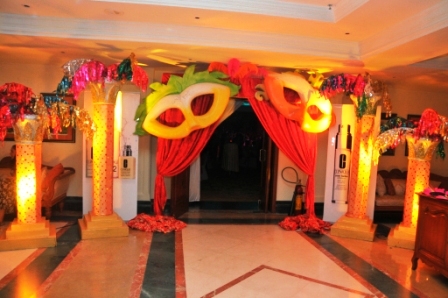 Fun, frolic & freedom. That's what this theme is all about. The Carnival, also known as Mardi Gras is a whimsical masquerade theme and is perhaps the most colourful, vibrant and fun-filled theme. The theme brings out the colours and spririt of the Goan community with a touch of Europe. Bring in the sites and sounds of Brazil and Venice to your party. This theme is perfect for pre-wedding cocktail or Sangeet parties and even a modern day wedding reception.
ARABIAN NIGHTS THEME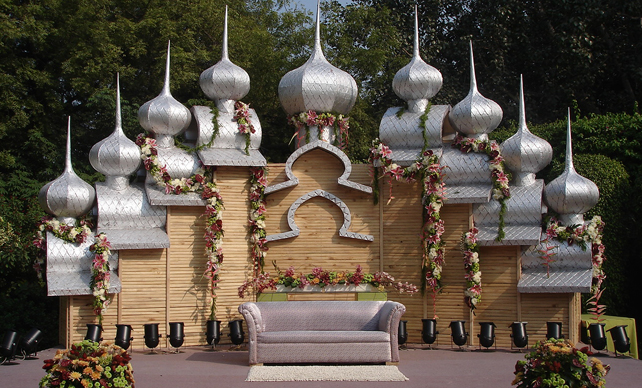 Take a flight of fancy on your special day. Bring back the splendor of a Thousand Nights at your Arabian Nights Theme party. Watch a Belly Dancer move as you soak in the magical atmosphere with a Hookah and flavored tobacco. Re-live the charmed life of royalty in a Palace setting with minarets and towers, silk and flowers and a bejeweled throne. The Arabian Nights theme can be perfectly adapted for a Mehendi cum Sangeet or even a full wedding Reception Party.
BOLLYWOOD THEME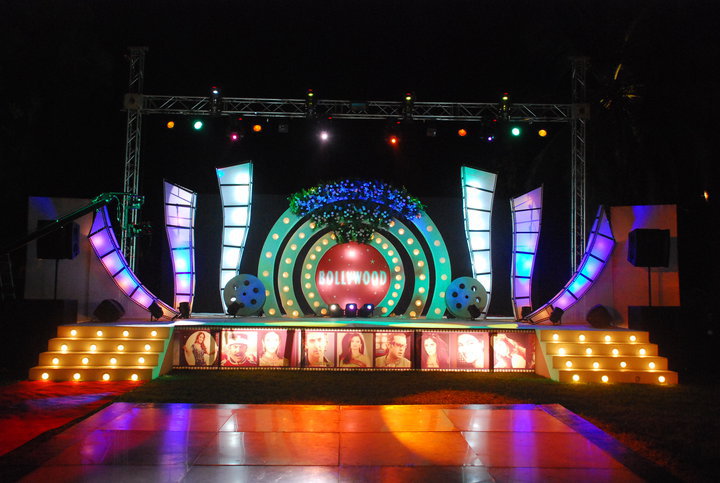 Lights, Camera, Action ! Take your guests through the golden years of Indian Bollywood with lifesize cutouts of your favourite stars from yesteryears in a movie set scenario. The Bollywood theme is wedding favorite mainly for Sangeet Parties. If you are more of a Hollywood fan then an Academy award Oscar night would be ideal for your pre-wedding cocktail party.
HAWAIIAN BEACH THEME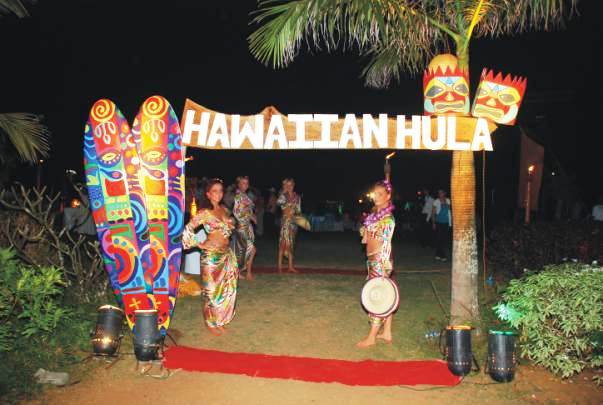 Take your guests to your very own Hawaiian Luau with swaying palms, mysterious statues and welcoming hostesses. With a bit of a Goan touch we can transform your wedding with the sites and sounds of the Polynesian islands. The Hawaiian bamboo theme is a hot favourite for wedding ceremonies and the Hawaiian Luau is perfect for the pre-wedding cocktail or even the wedding reception party.
NIRVANA LOUNGE THEME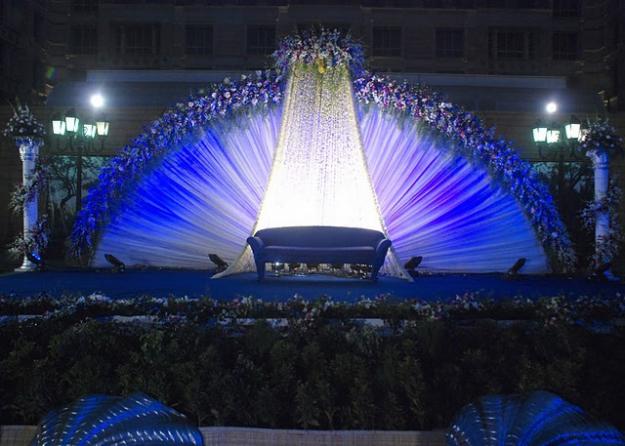 The Nirvana theme is a modern lounge theme. The scene is set with soft blue lighting on white fabric tents and lounge sofas. A variety of candles all around create the perfect setting for a relaxing ,chilled out party. Bamboo shoots in illuminated pots add to the ambience.Soak in the atmosphere while you recline on a sofa, sipping flavoured hookah and listening to Buddha Bar music or even soft jazz. A perfect theme for soft cocktail parties and even a chic reception party.